Adopted Local Development Plan
Adopted Local Development Plan
On the 28th February 2013, the Council adopted a Local Development Plan (LDP) for Pembrokeshire (excluding the area of the Pembrokeshire Coast National Park). 
The end date for the current Pembrokeshire County Council Local Development Plan (LDP), adopted on 28/02/2013
On 24th September 2020, Julie James, AS/MS, Minister for Housing and Local Government (and subsequently Minister for Climate Change since May 2021), wrote to all Local Authorities and National Park Authorities in Wales regarding end dates for LDPs.
She advised that:
'The provision in the PWA (Planning Wales Act) 2015 regarding the period to which a plan has effect were commenced on 4th January 2016.  These provisions do not apply to LDPs adopted prior to this date.  Plans adopted prior to 4 January 2016 will remain the LDP for determining planning applications until replaced by a further LDP.  For those LDPs adopted after 4 January 2016, the plan will cease to be the LDP on expiry of the period specified in the plan'.
For Pembrokeshire County Council, the current LDP (LDP 1) was adopted on 28/02/2013, which in the context of the Minister's letter means that it will remain in force until LDP 2 (the replacement plan) is adopted. 
Therefore, the part of the Plan title saying 'up to 2021' should be disregarded.
Future Wales: the National Plan, 2040
Future Wales, prepared by Welsh Government, is the National Development Framework for Wales and has Development Plan status. Further details are available on the Welsh Government website, here:
Update to Future Wales - The National Plan 2040 (gov.wales)

The map of Pembrokeshire below can be used to navigate through the Proposal and Inset Maps.
The Ordnance Survey map data included within these maps has been provided by Pembrokeshire County Council under license from the Ordnance Survey in order to fulfil their public function to act as planning authorities. Persons viewing this data should contact Ordnance Survey copyright for advice where they wish to licence Ordnance Survey map data for their own use.
Click on a numbered area of the map below to view the proposal map. 
If you wish to view an Inset Map, firstly click on the appropriate Proposals Map sheet. Then click within the required Inset Map box on the Proposals Map sheet.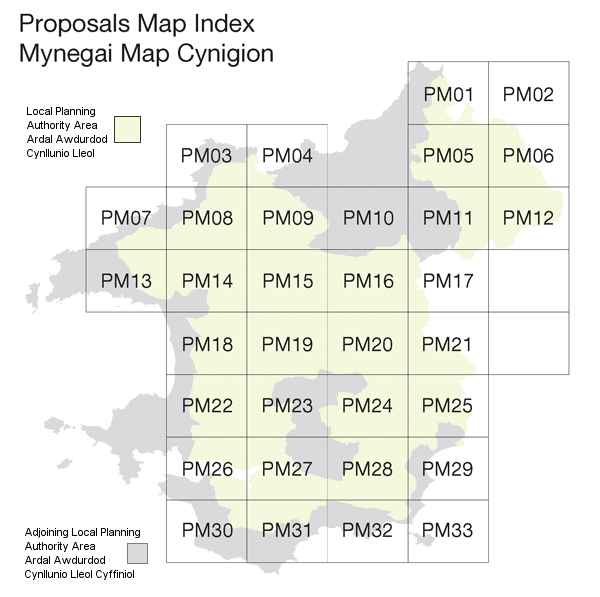 Proposal Maps Key
ID: 2485, revised 29/09/2023
Print