Food Waste Collections
Turn food waste into Welsh power
In Wales, most recycled food waste is turned into renewable energy which powers Welsh homes and communities. Pretty powerful stuff, right? For powerful tips, facts and stories visit Wales Recycles (opens in a new tab).
Five reasons to recycle your food waste
1) It's easy
2) Contains food smells
3) Caddies lock to stop pests getting access
4) It's collected once a week
5) Turned into electricity
Tips to help you recycle all your food waste
Recycling food waste can keep Wales clean and green. But the process starts in your kitchen, when you get food recycling right.
Use a caddy liner to keep your food waste contained. You can request more food waste bags by leaving a note on the top of your green food waste caddy on bin day.
Empty your grey indoor food waste caddy into your green outside food waste caddy regularly to avoid it getting too full and splitting or spilling.
Keep a lid on it to stop flies getting in, and odours getting out. Don't forget to close the lockable lid on your outdoor caddy, to prevent pests and safeguard against windy weather.
Keep your caddy fresh & clean by giving it a rinse, wipe and dry.
Guidance: what to put in your food waste caddies
Yes please
All uneaten food and plate scrapings
Tea bags and coffee grounds
Out of date or mouldy food
Raw and cooked meat, including bones
Raw and cooked fish, including bones
Dairy products such as cheese
Eggs and eggshells
Rice, pasta, beans
Baked goods such as bread, cakes and pastries
Fruit and vegetables including raw and cooked vegetables and peelings
Waste cat and dog food from a domestic property. Anything from a commercial premise will be agreed on a case by case basis.
Please remember - If you already compost at home please keep composting your uncooked vegetable and fruit peelings in your bin or heap.
No thanks
Packaging of any kind (please recycle what you can in other recycling bags)
Plastic bags
Liquids - these may leak, causing spillages when transporting the food waste
Oil or liquid fat (you can recycle cooking oil at your local Waste and Recycling Centre)
How can I recycle my food waste?
To recycle your food waste all you need is:
A large green 23 ltr food waste bin 
A silver 5 ltr food waste caddy 
An annual supply of bags to line the caddy
Step 1
Get the right equipment – you will need a kitchen caddy, caddy bags
and a kerbside bin.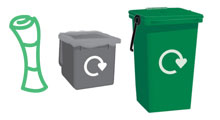 Step 2
Line your Kitchen Caddy with the bag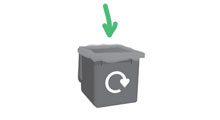 Step 3
Place any food waste into the caddy, taking care to exclude any packaging.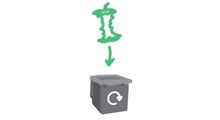 Step 4
When your kitchen caddy is full, empty into your kerbside bin and put out for collection once a
week so it can be recycled.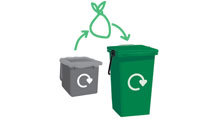 If you need replacement bags or boxes you can pick them from a number of locations around the county or make a request.
ID: 386, revised 06/07/2023
Print