Storytelling chair at St Mark's School celebrates new class names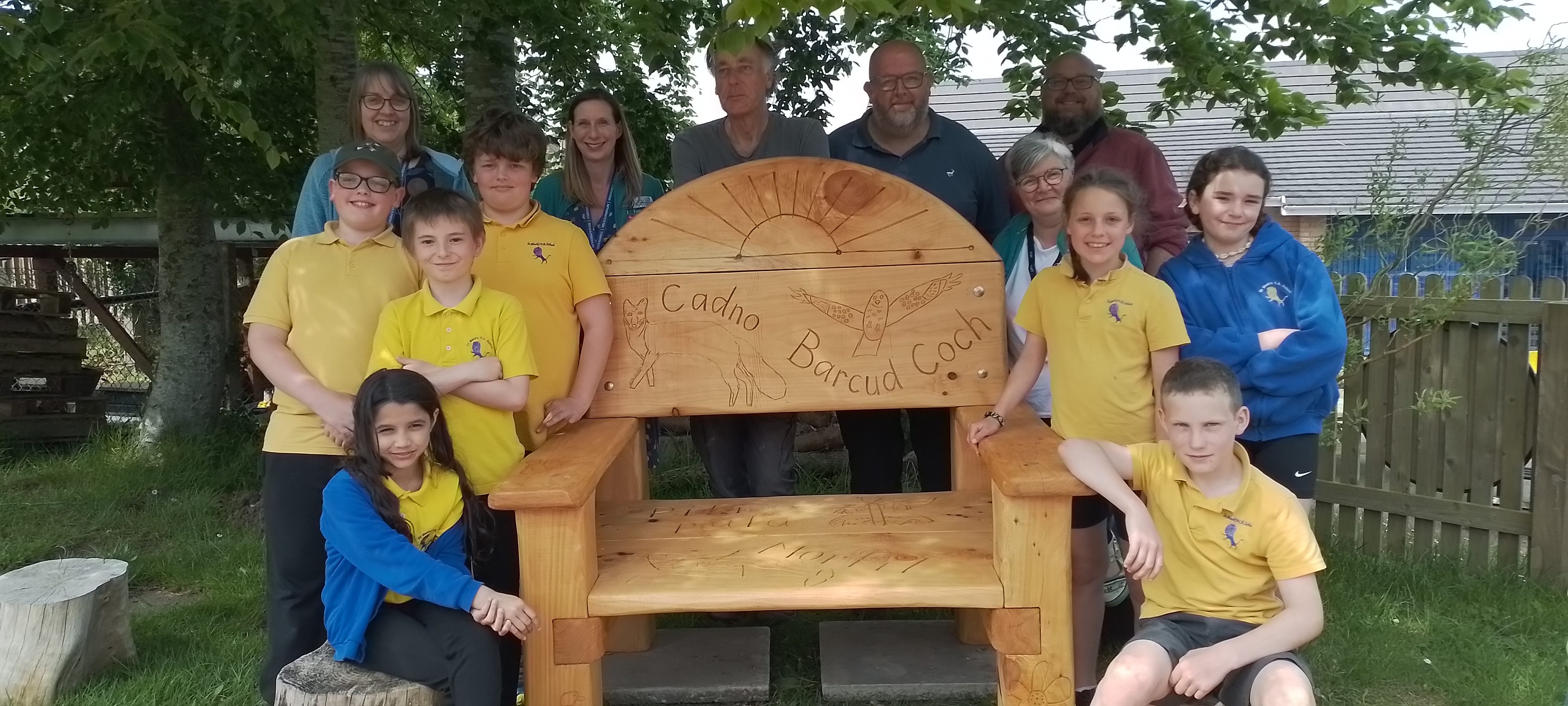 Children from St Mark's Church in Wales VA Primary School in Haverfordwest were thrilled to see how their artwork inspired local artist Robert Jakes in his designs for their giant story-telling chair.
Now installed in the grounds of St Mark's School, the chair celebrates the new class names of the school, Morfil (whale), Cadno (fox), Pili Pala (butterfly) and Barcud Coch (red kite).
Head teacher Heather Cale and Deputy Head Richard Owen praised Robert Jakes' skill in capturing the children's drawings in his carvings, and spoke inspiringly to the pupils about the importance of learning so that one day, they too can share their own skills with the younger generation.
Staff from Springboard have been supporting St Mark's School with the development of their outdoor learning spaces thanks to Welsh Government funding that the project helped the school to secure for community use.
As well as the story-telling chair, a fire pit, storytelling circle, buddy benches, outdoor furniture and outdoor storage units have all been recently installed in the school grounds with the funding secured.
Springboard Coordinator Laura Phillips is really impressed by the improvement these new additions have instantly made to the grounds.
"I can't wait to see how families can benefit from learning outdoors in the school as the summer term gets into full swing," she said.
Head teacher Mrs Cale said: "As a school, we are delighted that our outdoor areas continue to be developed so that our learners and the wider community can benefit from such inspiring and creative spaces."
Pictured (above) around the new story-telling chair are pupils Tiberius, Aaeesha, Leon, Mal, Rachel, Reuben and Tallulah. Also pictured are Headteacher Mrs Cale, Springboard Advisor Laura O'Loughlin, Artist Robert Jakes, Deputy Head teacher Mr Owen, Chair of Governors Fr Neil Hook and Tracy Crew (Springboard Advisor).
ID: 10204, revised 24/05/2023