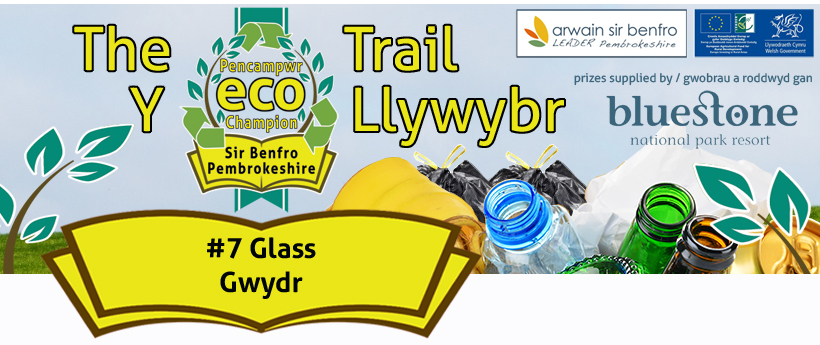 #7 Glass.
Glass is made mostly from sand…and this is not a natural resource that the planet is dangerously short of.
Glass is 100% recyclable and can be used over and over again when it is recycled…but glass that ends up in landfill will never decompose.
There are many ways glass bottles and jars can be reused around the home…, which can help reduce how much glass you throw away.
Pembrokeshire County Council provide every home with boxes to store your glass bottles and jars in…and they collect them every 2 weeks from your kerbside.
Glass should not go in black bags.
Glass Waste Facts
·        Each family uses an average of 500 glass bottles and jars every year.
·        Milk bottles are used an average of 13 times before being recycled (compare that with 'single-use-plastics')
·        The glass recycling level in the UK saves enough energy to launch 10 space shuttle missions.
·        The average glass bottle is made-up of as much as 25% recycled glass; green bottles however contain as much as 90%.
·        Recycling 2 bottles saves enough energy to boil water for five cups of tea or power a computer for 50 minutes
Question #7: On average, how many times can a glass milk bottle be used before it's recycled?
Make a note of your answer and continue the Eco Champion Trail.